Angiogenesis and related diseases
What is angiogenesis?
Angiogenesis is the process of growth of new blood vessels, by involving several molecules and cells. Angiogenesis are observed in a physiological process as well as specific diseases. It is getting clear that angiogenesis is caused by several diseases and the development of those diseases. Malignant tumor (cancer), cancer metastasis, skin photo aging, obesity (metabolic syndrome), diabetic retinopathy, and rheumatoid arthritis are known as angiogenesis-related diseases.
Angiogenesis and related diseases

Angiogenesis, cancer and cancer metastasis
Angiogenesis enables malignant tumor (cancer) to receive nutrients and oxygen as well as eliminating metabolic wastes. That helps cancer to progress and eventually leads to metastasis formation. Therefore the effect of inhibiting cancer angiogenesis is based on the idea that the cancer tissue would be deprived of its oxygen and nutrient supply by blocking new blood vessels. Vascular Endothelial Growth Factor(VEGF),the inducers of angiogenesis are produced by cancer cells. VEGF binds to VEGF-Rs on endothelial cells, and resulting activation of cell migration and proliferation toward the extracellular matrix, eventually leading to the formation of new blood vessels
Angiogenesis, cancer and cancer metastasis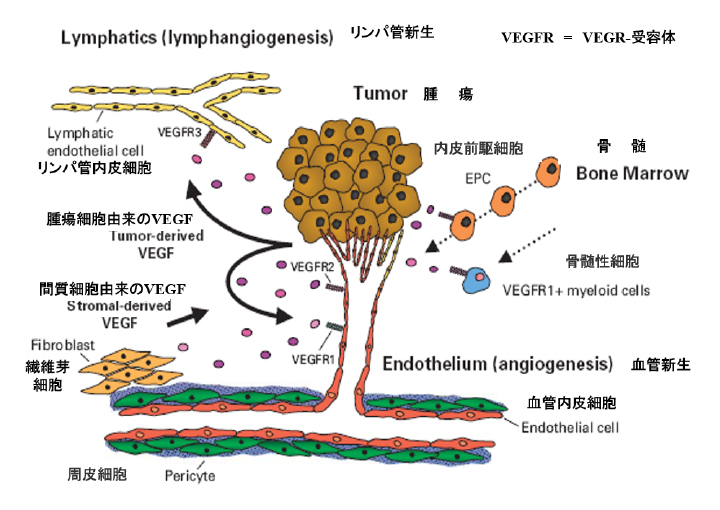 Angiogenesis and skin aging
Photoaging of skin is caused by exposure to ultraviolet radiation (UV). UV causes inflammation to the skin and also produce reactive oxygen species that breakdown the extracellular matrix (such as collagens), causing skin wrinkle formation, solar lentigines,etc. Along with the inflammation process, the blood vessels in the skin are also significantly damaged and the stimulus of ultraviolet radiation causes the formation of skin angiogenesis.
Relationship of Angiogenesis and Wrinkles in skin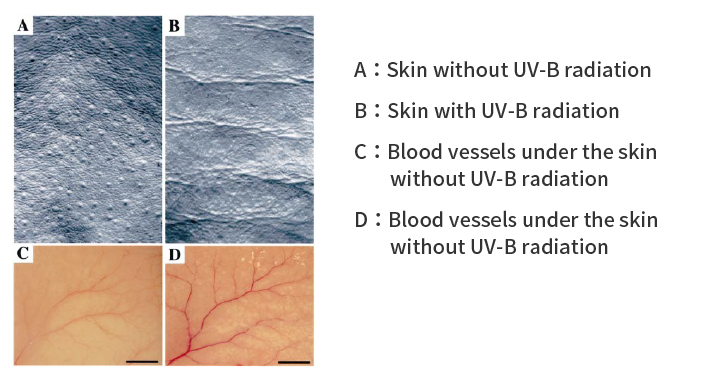 Because photoaging and angiogenesis are connected, prevention of photoaging is expected by inhibiting angiogenesis.
Angiogenesis in Psoriasis
Psoriasis is a chronic recurrent disease, affecting skin and joints by inflammation associated with angiogenesis. Usually erythema associated with scales appears on the skin that can vary in size and shape, and sometimes rash can be spread all over the body. The features of psoriasis are, excessive increase of epidermal keratinocytes, accumulation of inflammatory cells, and excessive angiogenesis. Also immune mediated proangiogenic factors are produced in psoriasis. Eruption are caused as a result of angiogenesis, epidermal cell proliferation and local chronic inflammation.
Symptoms of Psoriasis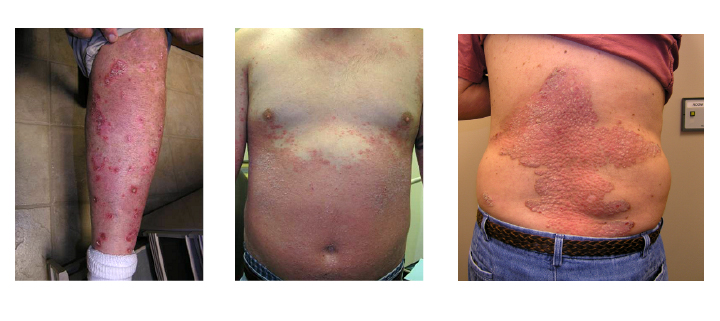 Provided by: S. Grolom, Grikin Skin Inst, Michigan, USA
Angiogenesis in Rheumatoid arthritis
Rheumatoid arthritis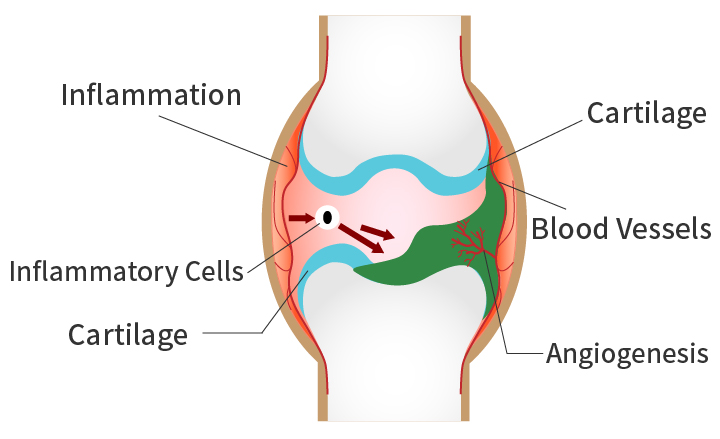 Rheumatoid arthritis is an inflammatory autoimmune disease that attacks the joints of hands and feet, causing pain and deformation of the joint. Rheumatoid arthritis mainly causes inflammatory symptoms. Inflammation inside of the joint cavity is caused by the extravascular migration of inflammatory cells, such as macrophages and T-lymphocytes that come from the small blood vessels in the joint fluid cavity itself. By penetration of inflammatory cells into the joint cavity, inflammatory and angiogenic factors are produced and also promote angiogenesis that fail to retain control of the inflammatory response.
Angiogenesis in Obesity
The State of obesity or metabolic syndrome is associated to two or more conditions including high blood sugar levels, high blood pressure and hyperlipemia as well as visceral fat accumulation(visceral obesity and abdominal obesity).
In 1998, it became clear that leptin (the hormone that regulates food intake)is one of the angiogenic inducers by Yale University in the US and published in the journal "Science". Lipogenesis (Adpogenesis), angiogenesis and extracellular matrix reconstruction will be needed for the formation of obesity.
Relationship between Angiogenesis in Diabetic Retinopathy and obesity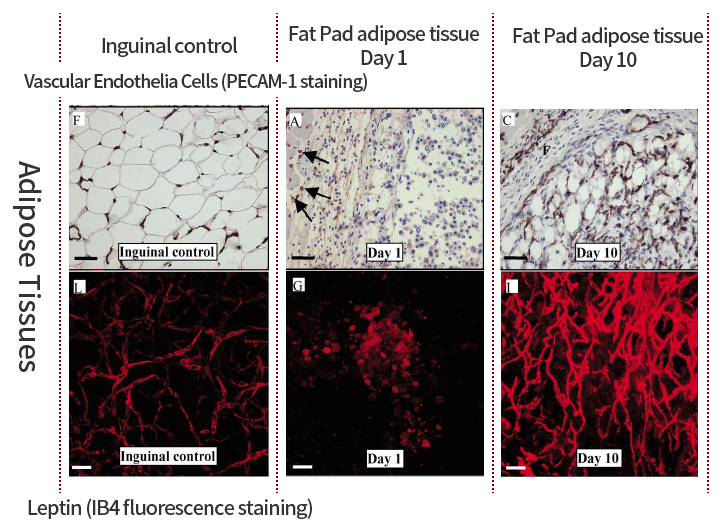 In recent years, angiogenesis regulatory role of angiogenesis factors and metabolic regulation factors, attract attention for the treatment and prevention of metabolic syndrome. There is a potential of treating obesity by controlling growth and maintaining fatty tissue through the regulation of angiogenesis in the adipose tissue . The importance to clarify the role of blood vessels in the pathogenesis of obesity has been suggested.
Angiogenesis in Diabetic retinopathy
In the retina, the small blood vessels are spreading to provide nutrients and oxygen. Followed by high blood glucose levels, blood vessels are blocked and vascular diseases occurs. Angiogenesis that is being developed to make up the blood vessel disorder is vulnerable and tears easily, causing traction retinal detachment and vitreous hemorrhage.
The risk of vitreous hemorrhage increases due to the phenomenon called angiogenesis as a part of biological defense. Along with it, low vision occurs and it may lead to vision loss. In diabetic retinopathy ,light coagulation therapy,the laser beam therapy to retina for the purpose of prevention and disappearance of angiogenesis is performed and it is said to be effective. In other words, inhibiting angiogenesis makes it possible to prevent the diseases progression and lowers the risk of vision loss.